Are you in the last year of your lease? It's already time to start considering your lease-end options.
It's the final year of your lease and you'll be considering where you want to go from here when your lease term ends. Maybe you'd like to roll into a different lease on a brand new Dodge or Ram with all the latest technology features. Or perhaps you'd prefer to look into purchasing your currently leased vehicle. There are several choices to consider, and to assist your investigation into lease-end options, we've complied some lease-end information for you below. We'd also like to invite you to contact us at Larry H. Miller Dodge Ram Avondale any time - we're here to help and to answer all your questions.
Lease-End Timeline
How far out are you from the end of your current vehicle lease?
Time to consider your options and decide what you want to do when your current lease ends.
Your first consideration will be whether you want to keep your currently leased vehicle, or get a brand new Dodge or Ram. There are many reasons people choose to purchase a leased vehicle, usually motivated by practicality and financial considerations; in some cases, it's more about feeling comfortable with the familiar, or simply being very satisfied with their current ride. Alternatively, many lessees are ready for something new at the end of two or three years; they like to keep up with the current technology and features, or just need something bigger to carry their growing family. Either way, it can be a big decision with much to consider, so it pays to plan ahead.
Factors that may affect your choice of lease-end options include:
Your leased vehicle's mileage. The number of allowed miles per year and the fees associated with going over the allowed mileage will be listed in your lease agreement. Contact a Larry H. Miller Dodge Ram Avondale leasing specialist if you'd like assistance in choosing the best lease-end option for your circumstances.
How does your leased vehicle's current retail value compare to the residual value listed in your lease agreement? If you have any questions about this comparison, we're happy to help explain lease equity - just give us a call at 880-450-0592.
Does your leased vehicle show wear and use signs that will incur extra charges at least turn-in? See the Wear Table in the Wear & Use section below.
Explore Your Options:
Learn More About Purchasing Your Currently Leased Dodge or Ram

Learn More About Trading In Your Lease

Learn More About Returning Your Lease
60 days before your lease-end date, start preparing for the end-of-lease process.
Before having your pre-inspection, it's a good idea to make use of the Wear Table in the Lease-End Timeline Wear & Use section, designed to assist in performing a self-inspection and estimating any potential vehicle damage prior to an official pre-inspection.
Schedule your pre-inspection early enough to allow you time to complete any needed repairs to avoid the extra charges on your final bill. Contact the Chrysler Capital Allegiance Team at 855-383-0558 to arrange for a pre-inspection.
Schedule a service appointment to complete any repairs you have decided to address prior to lease-return.
Schedule a Lease Return appointment with the dealership.
Your lease is almost up. Have you decided what your next step will be?
You've spent the last couple months investigating your options and deciding on your next course of action, but have you picked out your next vehicle? Did you know, when you stay with Chrysler Capital financing for you next vehicle, you may be eligible for loyalty rewards? Use the form below or call 880-450-0592 to schedule an appointment with us today at Larry H. Miller Dodge Ram Avondale. We will assist in finalizing your end-of-lease decision and get you lined out for your next vehicle.
Does Your Leased Vehicle Show Signs of Excessive Wear & Use?
If your leased vehicle shows signs of excessive weear and use, you could be subject to additional fees at lease end. Your pre-inspection, scheduled through Chrysler Capital Allegiance Team (855-383-0558) will determine any amounts of excess wear and use and the associated fees. If you'd like to do a self-assessment ahead of time, and possibly arrange to have some repairs done even before your pre-inspection, review the table below to determine if you are at risk for incurring additional charges.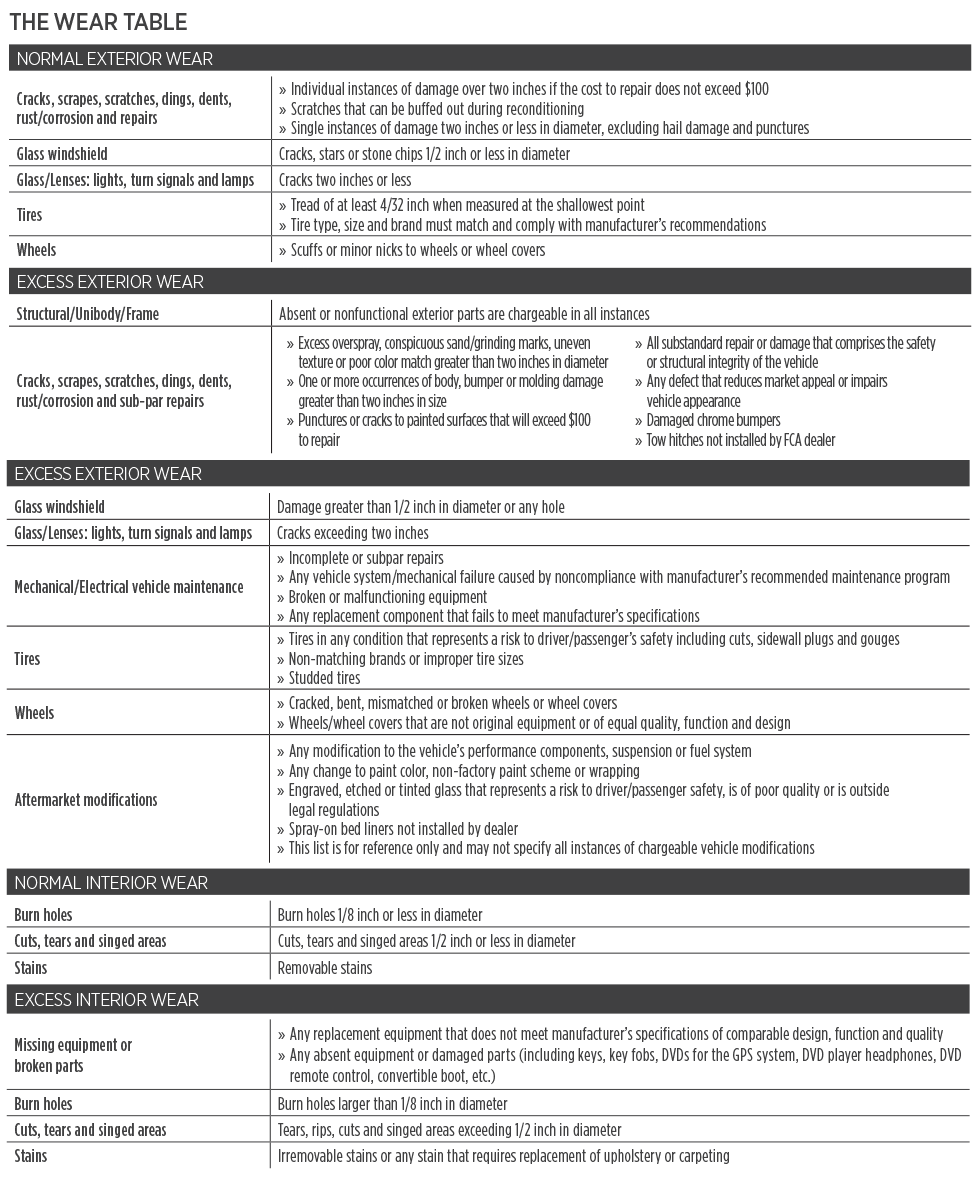 You may download a copy of this table in pdf file format.
Contact a Dodge/Ram Leasing Specialist
* Indicates a required field
Use our Interactive map to find Larry H. Miller Dodge Ram Avondale
Larry H. Miller Dodge Ram Avondale is located off of the Interstate 10 and 99th Avenue. We always maintain competitive new and pre-owned inventories of Chrysler, Dodge and Jeep vehicles. Staffed with experience sales representatives and top trained technicians, we're here to provide a fun, easy and valuable automotive shopping and service experience. Stop by our dealership today at 10101 W. Papago Freeway to see for yourself!